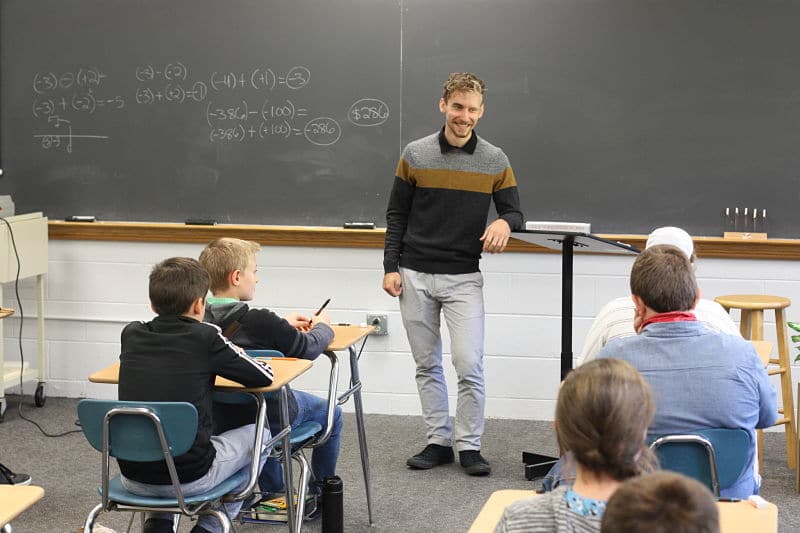 Everyone learns, all the time. Some of the learning is controlled; other learning simply happens. For the teacher, a periodical consideration of philosophical aspects of this teaching/learning process is beneficial.
Who do I teach?
Students obviously are the focal point of education. As a twelve-year-old or a thirty-year-old, the student is created in God's image. Whether gifted or disabled, young or old, wealthy or poor, each student is an individual person with individual needs and abilities. The goal for a teacher should be to help each student to develop spiritually, morally, socially, and academically. I teach "for the kids." When I quit teaching for a brief period, I found that I greatly missed the interaction with teenagers.
What do I teach?
Ultimately, any teacher should strive to teach truth as revealed by God. This truth comes forth in any subject matter for any age group. The teacher should be intellectually fit, knowing his subject matter and striving constantly to improve his teaching methods. While some schools dictate carefully the curriculum taught and others allow more latitude for teachers, in any educational setting the curricular goals must be met. For me specifically as a language arts teacher, I aim to teach my students to communicate truth through improved reading, writing, speaking, and listening.
Why do I teach?
Education is always redemptive, pointing students to higher levels of knowledge, whether physical or metaphysical. Learning new ideas gives depth and meaning to the student's life. It prepares the student for life, providing skills necessary for careers or everyday tasks. Specifically in my life, I believe teaching is a spiritual gift and a calling from God.
How do I teach?
The quality teacher models what is being taught, in and out of the classroom. He uses different manners of presentation, such as storytelling, models, audiovisuals, and straight presentation of fact, to engage the student. A successful teacher maintains control of the classroom by using preventative discipline and justice tempered with love. She organizes and runs the classroom to enhance learning and carefully plans lessons to meet the needs of individual students. Recognizing these differing needs, an effective teacher accommodates as necessary for students. In my classroom, I always attempt to keep these goals in mind, realizing that varied methods of presenting language arts encourage students not only to learn but also to enjoy reading, writing, spelling, and grammar.
So, who do I teach? Students. What do I teach? Life skills as presented in language arts. Why do I teach? I'm called to do so. How do I teach? Lovingly, with skill and planning.