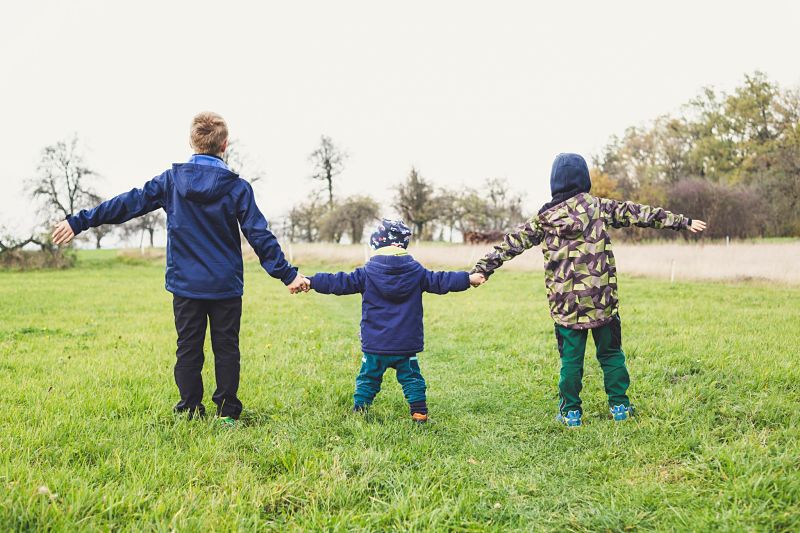 Photo by Markus Spiske on Unsplash
Shouts of hilarity rang across the back yard of my cousins' farm in Indiana. We were playing hide and seek on a Saturday afternoon. Uncle Tim, who was younger than the oldest four cousins, had once again attached himself to someone and squeezed into what they had thought was a great hiding place until a second person tried to fit. Always he chuckled loudly which gave away the site, and usually he stuck out somewhere, as easy to spot as if he were waving a flag. It was something we all regarded fondly as part of playing with Uncle Tim. He had suffered brain damage at birth, and we were used to his quirks, used to interpreting what he was trying to say, used to helping him with his buttons or his shoes. When he was difficult, our parents coached us in appropriate ways to handle the situation.
We didn't know that our hearts were being enlarged or that we were learning secrets about relating to mentally handicapped people. It was just a part of life, which is probably the most effective way to learn anything.
When he was a teen, Uncle Tim lived with our family for a while. I was shocked when children who didn't know him would tease or mock him. Didn't they know he had feelings too? Our schoolteacher was open to him attending classes. He said it would be a good experience for the other students. With wise supervision and kindness, Tim soon blended into the classroom, sitting in his corner with coloring pages and workbooks every day. Older students would finish their algebra and help him with his numbers flashcards, and he would struggle with the same ones every time. Sometimes he concentrated so hard that he would drool and have to be reminded to get a tissue to wipe it. He made no noticeable academic progress, but Tim became one of the crowd, limping along at recess, chortling his delight when he tagged someone. The students from those days have not forgotten him and he has not forgotten them. He could only read a few words and count to fourteen, but he taught us all lessons in empathy.
Practicing Empathy in Real Life
There is so much wonderful diversity in our world, yet we tend to sort ourselves into safe categories of sameness. We are not born instinctively knowing how to relate to those who are different from us. We may have harmful prejudices that have no basis except that we do not understand the other person. Maybe they speak with a foreign accent, maybe they carry a cardboard sign begging for money, maybe they are voiceless in a wheelchair. As we grow older, we learn social norms for how not to act, but just avoiding staring is not empathy. We need to open our hearts to learn about their lives, how they like to be treated. We need to feel deep in our souls that they are worthy of dignity and love, just as we are.
Children can be cruel to those who don't fit their societal mold, but they also have great capacity for kindness and understanding. As teachers and parents, we can introduce our children to situations and people that they have not encountered in their lives.
There are endless opportunities to learn to care about others and serve them. A few come to mind:
Care about the lonely and marginalized. Visit the elderly, hear their stories, and learn about life a few generations past.
Care about the homeless. Volunteer in soup kitchens or food drives.
Care for the disabled. Find an organization such as Love INC that matches your skills to needs around you.
Care about the destitute. Make Christmas shoeboxes instead of doing gift exchanges. Let giving be more important than receiving.
Care about orphans. Sponsor someone and pray for them regularly.
Care for refugees. Gather coats and extra winter clothing for distribution.
Learning Empathy From Books
Sometimes it isn't possible to physically meet the people we want to understand. This is where we can introduce children to other people in other worlds through stories.
When my fourth-grade teacher read the book Star of Light by Patricia St. John, I imagined for the first time how it might feel to be a little beggar on the street. It was not a sight I ever saw in our small town, but there were times when a man stood at the stoplight with a sign that asked for money to feed his family. I would wonder about his story, and I couldn't just dismiss him as a loser. He must have feelings too.
To help our children visualize other worlds, I invested in some photo essay collections. One is a beautiful book titled Where Children Sleep by James Mollison. Peter Menzel has published numerous collections of photos. We enjoyed What the World Eats and Material World. It has been interesting to hear our children commenting about how some of the happiest looking faces are the ones with the fewest possessions. The more they are exposed to other worlds, the more their capacity for empathy grows.
Why Empathy Matters
Micah 6:8 gives us the heart of empathy. "He has told you, O man, what is good; and what does the Lord require of you but to do justice, and to love kindness, and to walk humbly with your God?"
We are concerned about sheltering our children from the evils in the world, as we should be. However, if we want them to live compassionate lives, we have to let them see some of the brokenness in the world. Empathy is an emotional skill; it develops through learning to care about other people. When we give our children the chance to know someone in a different world from their own, they learn and grow.