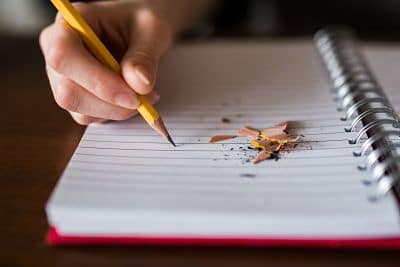 A bit over a year ago, I was introduced to a new spelling curriculum:  Words Their Way.  I like it!
It takes a bit of doing to get started (a diagnostic test and an unusual method of checking the test followed by forming groups of students according to aptitude). But once we got going, I found it to be the least teacher-heavy of any spelling curriculum I have ever taught. Plus, it is about as economical as you can get.
In the 3rd and 4th grade classroom, we are now into the second year of using this program and, due to our satisfying experience, two more classrooms in our school have adopted the same curriculum.
This program is a hands-on approach that includes a variety of learning styles.  On Monday, each student cuts out his own set of (usually 24) phonetically grouped spelling words for that week.  After cutting them out, each child reads each word aloud as he physically moves them individually around on his desk, sorting them into columns according to the specific patterns introduced in that lesson.  This physical movement of repeatedly arranging and sorting the words organizes them in the brain and thus helps the child internalize the patterns presented.  Neat idea, isn't it?!
Sorting them twice each day (Monday through Thursday) is step one of each of the next days' spelling practice.  On Mondays, the sorting is followed by copying the same words (in the same sorted columns under the phonetic headers) into a composition booklet.  Another day, the physical sorting is followed by drawing and labeling about half the words. The third day, they form sentences using about half the words. The fourth day, they practice describing the words and then write them on the board as I dictate.  Those who love to draw really enjoy the drawing day, word-smart students come up with amazing sentences, and always they are moving those slips of paper around and hearing themselves say them as they sort.  The fact that every week there are students who voluntarily go far beyond the requirements—sometimes drawing every word or using each word in sentences—speaks of the effectiveness of this approach.  By test day on Friday, many different learning styles have helped to prepare them for the test.
If you already have a set curriculum, this novel approach to spelling is hardly one you can use, but if you are struggling with spelling in your classroom and have permission to browse around for ideas, try checking out Words Their Way.
You might find the blog posts about Words Their Way from This Reading Mama and Ell Toolbox helpful.